Joining the Northern Illinois Street Rod Association is pretty easy. Show up at one of our regularly scheduled business meetings or Cruise Nights, bring along a completed Membership Application and let us know that you would be interested to join us.
Today NILSRA has some 25 to 30 members plus our spouses or significant others. We conduct a business meeting the first Monday of every month at Nick's Pizza & Pub located at 990 S Randall Rd, Elgin, IL 60123. An informal dinner starts at 6:00 and the business meeting 7:00, usually finishing by 8:00 but a few of us stick around and have a couple of refereshments after the meeting.
Membership acceptance requires participating in three NILSRA Events. A copy of the Club Constitution and By-Laws will be e-mailed following the application.
We also offer the following activities:
---
Tuesday morning breakfast: Typically, a small group of members of the club who meet at 7:30 on Tuesday mornings at Baker Hill Pancake House located at 1279 Dundee Ave, Elgin, IL 60120. That's Illinois Route 25 south of the tollway in Elgin. Nothing spectacular happens... but we do a fair amount of discussion about upcoming events and working on our cars.
---
Cruise Nights and Weekend Car Shows: We typically visit several Cruise Nights and Car Shows throughout the year. Please check back to see our planned activities for the year and a list of the area cruise nights and car shows that we will be attending in 2019.
---
One-day weekend trips: Our Activities Committee plans various driving trips for the Club members. We typically conduct three or four one-day, Saturday or Sunday trips during the summer months to some point of interest.
In 2017 we did a museum tour that included the Poplar Grove Vintage Wings & Wheels Museum and the Historic Auto Attractions museum in Roscoe, IL then finished with lunch in Rockford. We had nine cars in attendance and most included our spouses.
---
In 2018, we participated in the Route 66 Red Carpet Corridor weekend. For more information about that event, please visit: www.ilroute66redcarpetcorridor.com. NILSRA also traveled to the National Street Rod Association's Nationals North event in Kalamazoo, MI. Lots of fun, food and drinks among those who particpated!
---
For 2019, on April 6th, we conducted what we called SPRING CAR SHAKEOUT, a first event to get our cars out and see how well they survived the winter. We gathered for breakfast at Kane County Country Market in Maple Park and then headed west. The destination was the John Deere Historic Site in Grand Detour, IL. We received both a full guided tour of the facility and a blacksmithing demonstration. A great time was had by the nine Club members and our family members that participated!
---
Annual long-distance road trip: Typically as we get to the end of the year, we plan a trip that involved traveling a significant distrance and staying overnight for one or more days. We usually aim at one of the major car shows sponsored by NSRA, Goodguys or a similar organization.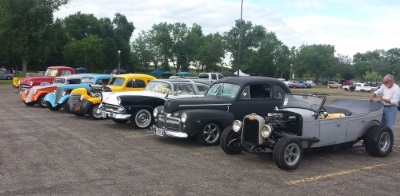 In 2017 we attended the "Back-to-the-50's" car show at the Minnesota State Fairgrounds in Minneapolis. There were eight cars on the trip, some of us with our spouses. We drove up through the backroads of Illinois and Wisconsin, and stayed overnight in Onalaska, Wisconsin. We finished the drive on Friday morning, following the Mississippi River up into Minneapolis. We spent the rest of the day at the Show. We also spent all day Saturday at the Show, then headed back home on Sunday morning making a stop for breakfast. It was a great trip!
In 2018, the annual long-distance trip took us to the Good Guys 27th Speedway Motors Heartland Nationals held July June 29 - July 1, 2018 at the Iowa State Fairgrounds. We had a wonderful time and thoroughly enjoyed each other's company!
For 2019, we will be attending the National Street Rod Association's 50th Anniversary celebration in Louisville, Kentucky. For more information, please visit: www.nsra-usa.com
---
Northern Illinois Street Rod Association sponsored Car Show: Known as the Fiesta Days Car Show, the Club sponsors the car show every year that takes place in conjunction with the City of McHenry Fiesta Days village festival on a Sunday during the middle of July. We've formed a formal Car Show committee for those of us who have an interest in conducting a car show without burdening those members that don't want to participate. Members are asked to volunteer their time to help that day operate the show. For more information please visit our dedicated website: www.fiestadayscarshow.com
---
Annual Club Picnic: Typically held on a Saturday of September every year... the Club gets all of the families together for a picnic style meal and of course... a great private car show!
---
To download a copy of the 2019 Membership Application form, please click here: 2019 NILSRA Membership Application.
To contact the Northern Illinois Street Rod Association, please write to us at: info@nilsra.com